Created by a registered user
this article was thought of and created by Maximus1925
Starbase 185

Class:

Affiliation:

Status:

Active

Career
Dimensions

Length:

1,500 meters

Beam:

1,142 meters

Draft:

1,713 meters

Mass:

80,220,400 metric kilotons

Specifications

Decks:

82 habitable levels

Complement:

3,000 (600 officers, 2,400 enlisted)

 
Starbase 185 is a major Federation installation of the Buckingham-class which was in service with Starfleet in the 24th century.
Starbase 185 is located in the Beta Quadrant, near the galaxy's center, and is the closest Starfleet facility to the Delta Quadrant and to Deep Space Delta-01, the only Starfleet facility located in the Delta Quadrant.
As of 2385 the Base Commander of Starbase 185 is Commodore T'san.
Support ship & auxiliary craft complement
Starbase 185 is protected by the following starships:
It also has a non-tactical support ship complement, namely:
When operating as a unit, this complement is collectively commanded by the station's Executive Officer.
Starbase 185 also has an auxiliary craft complement of 8 Delta-Flyer III-class runabouts, 8 Danube-class runabouts, and one wing of 36 Valkyrie-class Advanced Tactical Fighters. This is equivalent four squadrons of nine fighters each.
Vanguard Command
As of 2385, it was attached to Starfleet's Vanguard Command and serves as the base of operations of Iota Leonis Command and the home port of Task Force Paladin, one of the seven (7) major task force formations of the Vanguard Fleet, under the command of Rear Admiral William Riker.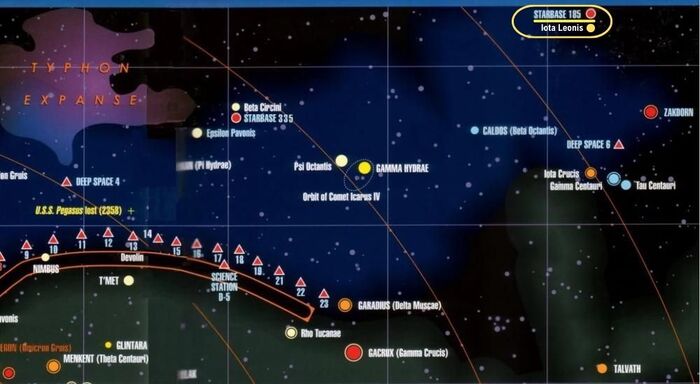 External Links