Prometheus-class
The Prometheus-class was a type of Federation starship in service in the 24th century. Starfleet originally planned for the Prometheus-class to have some major upgrades done to it's defense systems such as the Multi-Vector Assault Mode, but ultimately failed to achieve warp 10. An example of the Prometheus Class is the U.S.S Marvel NCC-93180
The Prometheus-class was one of several starship designs, along with the Sovereign and Defiant-classes, that were created in response to the Borg threat. Starfleet Tactical's task was to design a vessel that could be fast, maneuverable, and be equipped with the latest weaponry that was being designed to fight the Borg.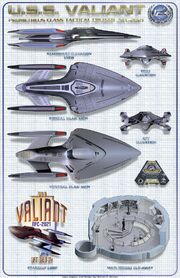 However, none of the new designs or weapons were ready for the Borg attack in 2366 which resulted in the destruction of 39 starships and the loss of 11,000 lives. This created a new sense of urgency in getting better equipped starships up and running in the fleet. While the Sovereign and Defiant classes entered service in around 2371, the launch and testing of the USS Prometheus was put back until 2374.
Technical data
Edit
Propulsion system
Edit
Capable of attaining speeds exceeding warp 9.995, the warp drive on board the Prometheus-class was designed to go faster than any other class in the fleet.
Defensive systems
Edit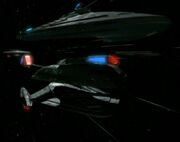 The Prometheus-class was designed with an unprecedented level of automation, and, combined with its advanced tactical systems, was one of the most powerful combat ships in the Alpha Quadrant. The primary battle systems on board the Prometheus included regenerative shielding, ablative hull armor, as well as phasers, and photon torpedoes.
A unique feature included in the Prometheus design was the Multi-Vector Assault Mode, which allowed the ship to split into three semi-independent sections that could each deliver massive force against an enemy target. All three sections were warp-capable. In this mode, the Prometheus could easily disable a Nebula-class at warp, or a D'deridex-class on the field of battle.
Additional systems
Edit
In addition to standard automation systems, the Prometheus-class design also featured holoemitters on every Deck, which allowed the ship's Emergency Medical Hologram (Mark II) to access all areas of the ship (most EMHs were confined to Sickbay only).
Known vessels
Edit
Main article: Category:Prometheus class starships
External links
Edit
Ad blocker interference detected!
Wikia is a free-to-use site that makes money from advertising. We have a modified experience for viewers using ad blockers

Wikia is not accessible if you've made further modifications. Remove the custom ad blocker rule(s) and the page will load as expected.