WELCOME ABOARD MEMORY GAMMA
Memory Gamma was created to collect and share all of your Star Trek ideas.
Whether it's characters, starships, planets, or fan fiction, the Star Trek universe is now yours to expand!
There have been 1,414 articles created on Memory Gamma since May 30th, 2008!
---
Please read the Introduction to Memory Gamma before getting started.
FEATURED ARTICLE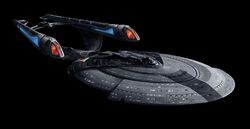 The
Noble-class
cruiser
was a class of
multi-role cruiser
that was in service with
Federation
Starfleet
from
2409
until it was phased-out during the early-
2440s
. It sported many advanced starship technologies that were considered new and experimental. Despite having been heavily armed and very battle-capable, it was designed with deep-space exploration in mind. For example, many of these vessels were intended to venture deeper into the
Delta
and
Gamma
Quadrants
, in what was evidently going to be the Federation's last wave of ships tasked with charting the unknown regions of the
Milky Way Galaxy
, "seeking out new life and new civilizations," and boldly going where the Federation has never gone before. In other words, the
Noble
-class would see the end of the galactic era, and usher in a new, intergalactic era for the denizens of the Milky Way.
---
Memory Gamma
is not affiliated with
Paramount Pictures
or
CBS Television Studios
.
STAR TREK
is a registered trademark of Paramount Pictures.
STAR TREK
and related marks are trademarks of CBS Television Studios, Inc.
The user-created content of this site is released under the Creative Commmons "Attribution-NonCommercial" license version 2.5, which can be found
here
.

HELPING OUT
Not sure where to start?