Khan Noonien Singh

Gender:

Male

Hair:

Black
Gray

Eyes:

Brown

Species:

Augmented Human

Homeworld:

Earth

Affiliation:

Sikh
Career

Occupation:

Former Dictator

Rank:

Leader

Family

Marital Status:

Married

Spouse(s):

Marla McGivers

 
Khan Noonien Singh
, better known as
Khan
, is a rival of the Federation from
Star Trek: The Original Series
. He appears in
Star Trek: Venova
as a villain.
Capabilities
Edit
Khan is known to be an Augmented Human, meaning is an enhanced form of human being. Khan has demonstrated that he has 5x the strength of a human's, which explains his power to crush a hold hand phaser with his bare hands. When he was being revived, Khan also demonstrated that he can recuperate 2x faster than a human and even possesses a heart power that matches that.
Weaknesses
Edit
One of the most common weaknesses of Khan is his 2 dimensional thinking, which allows him to be tricked by anyone who is more experienced than he is.
Appearances
Edit
Early Death
Edit
Khan appears in episode 1 where he hires the Borg and traps the Venova. However, Jim Kirk comes to defeat him and he is killed. However, a deleted scene has been found with Khan returning in a Klingon Bird of Prey and swearing revenge.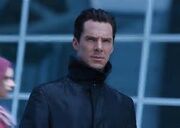 Ad blocker interference detected!
Wikia is a free-to-use site that makes money from advertising. We have a modified experience for viewers using ad blockers

Wikia is not accessible if you've made further modifications. Remove the custom ad blocker rule(s) and the page will load as expected.