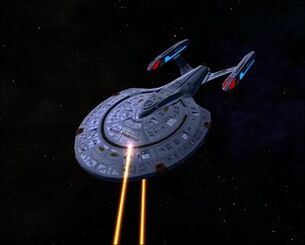 The
Elysion-class
is a starship utilised by
Starfleet
in the late-
24th Century
.
After the last Borg attack, Starfleet started to step up construction on anti-Borg defences as their current starship complement wouldn't be enough to stop repeated attacks by another Borg attack.
Starfleet decided to make use of the old saying, "fight fire with fire". This laid the groundwork for the Elysion-class, which became the primary project for the new anti-Borg fleet as it featured Borg enhanced sensors, like those on the USS Voyager, and an array of particle beams adapted from the wreckage of a Borg Cube in the Beta Quadrant.
The first of it's class, USS Elysion, launched in December 2390 and was assigned to exploration duties in the Alpha Quadrant, as a Borg presence had been detected in this Quadrant by the USS Atlantis. By 2395, at least 12 Elysion-class, including the USS Elysion, had been constructed, with the large majority of this class being sent to join the new anti-Borg fleet at Deep Space 5.